Dental Implants
Dental Implants in Seattle, WA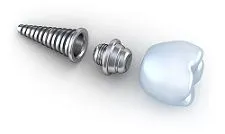 While tooth loss can feel like a major loss, know that our dental team here at Lake City & Rainier Dental Center is ready to help you get your smile back on track with help from dental implants. Implants have become a popular way to replace teeth these days, as they really do mimic the look and feel of real teeth. No one will be able to tell the difference between an implant and your natural teeth.
The Inner Workings of Dental Implants
A dental implant is one of the most popular ways to replace a missing tooth these days because their cutting-edge technology makes it so that they truly are as close as you can come to a real tooth. The dental implants that we offer are made up of three different parts,
A metal post or implant, which takes the place of the missing tooth's roots
An abutment, which connects the implant with the false tooth
An artificial tooth, often a dental crown
The Benefits of Getting Dental Implants
Here at Lake City & Rainier Dental Center, we pride ourselves on helping patients craft the smiles that will help them feel confident in their appearance once again after tooth loss. We understand the toll tooth loss can take on your self-esteem and Dr. Nkwonta and his team want to make sure that you get only the best in restorative dentistry, whether you choose to get dental implants or another tooth replacement option we offer. Some of the benefits of getting a dental implant include,
They were built to last a lifetime
They cannot develop cavities
Implants preserve bone structure and stimulate new bone cells
Fill gaps in your smile to prevent natural teeth from drifting into those gaps
Restored chewing, jaw function, and speaking
The Steps to Getting a Dental Implant
We want our patients to fully understand what goes into getting a dental implant so they can decide for themselves whether this is truly the best option to fit their needs. Here's what to expect when getting a dental implant from our team,
You will undergo a thorough consultation with us, where we will run x-rays and examine your oral health to make sure you are healthy enough for implants
The first part of getting dental implants involves a minor in-office procedure where we will need to surgically place the implant into the jawbone (the process only takes about 45 minutes for a single implant)
The implant and jawbone will fuse permanently over the course of 3-6 months
Once the implant and jawbone have fused, we will place an abutment on top of the implant
Once the gums have healed from placing the abutment, we will then cement the dental crown or false tooth over the abutment to complete the implant.
Dr. Obiora Nkwonta has been providing compassionate and trustworthy dental care to the Rainier and Lake City, OR, areas for more than 13 years. If you are interested in learning more about dental implants, call Lake City & Rainier Dental Center at (206) 329-1100 or (206) 363-1828!